Organisation of Bond Issues
Organisation of bond issues is a form of debt financing that allows the state, municipalities, and corporations to attract capital through debt capital markets. Baltic International Bank offers full spectrum of service for issuing bonds, before and after the issuance.
Organisation of Bond Issues in Baltic International Bank
Baltic International Bank, as the organizer of bond issues, ensures structuring of the bond terms, preparation of all the necessary documentation for registration of the bond issue, communication with the depositary and exchange, as well as the infrastructure needed for transactions. Likewise, we ensure preparation of analytical and informative materials needed for attraction of capital, and assure management of investor relations.
Participants of the Process of Bond Issue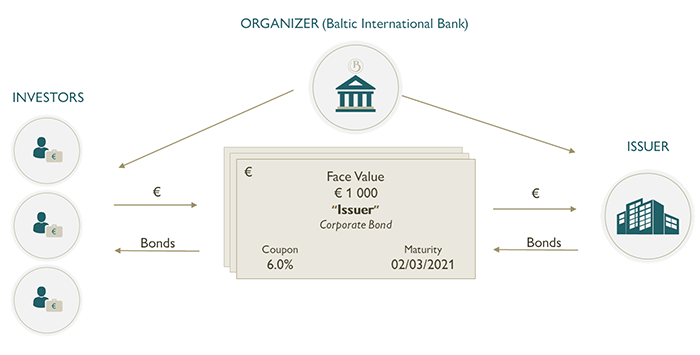 ---
REQUEST A COMPLETE LIST OF SERVICES AND RATES
---
ADVANTAGES OF COOPERATION WITH BALTIC INTERNATIONAL BANK
COMFORT
Internal and external support for the Issuer from the beginning of the issue until maturity.
CONVENIENCE
Development of the most favourable terms for the Issuer, taking into account the specifics of the Issuer's business and market conditions.
PRESTIGE
Working in a joint effort to create recognition of the Issuer in the eyes of the global financial market participants.
You might also be interested in the following financial solutions