Organisation of Bond Issues
Organisation of bond issues (emission) is a type of investment banking service that allows the state, municipal and corporate government, municipal and corporate structures (issuers) to attract the necessary financing in the debt capital markets. The issuer organizes a set of measures that the issuer needs to successfully locate and then service the loan.
Organisation of Bond Issues in Baltic International Bank
Baltic International Bank, as the organiser of bond issues, offers developing loan terms, preparing a package of bond issue documentation for registration with authorised bodies and drawing up a report on the bond issue results, ensure interaction between the Issuer and the Depository and the Stock Exchange, and provide a technical base for making loan payments. Our analytical bond issue materials are available to bond issue parties both during the preparation stage and after the release of bonds to a secondary market. We organize a series of public information events on investor relations with the direct involvement of the Issuer.
Participants of the Process of Bond Issue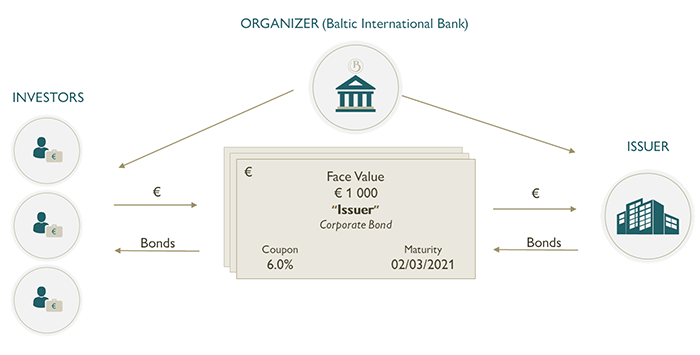 ---
REQUEST A COMPLETE LIST OF SERVICES AND RATES
---
ADVANTAGES OF COOPERATION WITH BALTIC INTERNATIONAL BANK
COMFORT
Internal and external support for Issuer's bond issues at the preparation and placement stages and during the process of secondary circulation until bond maturity.
BENEFITS
Development of bond placement terms that are most favourable for the Issuer, subject to taking into account the specific nature of Issuer's business and market conditions.
PRESTIGE
Working in a joint effort to create the public image of the Issuer in the eyes of professional players on the global financial market.
You might also be interested in the following financial solutions