Baltic International Bank (Bank) is one of Latvia's most experienced banks operating in the personalised-banking segment. We offer our clients sustainable investments having a built-in ESG component (ESG refers to considering the environmental, social and governance issues). We also offer a broad range of customised financial services.
Our employees highly appreciate development opportunities provided by Bank and the chance to gain unique experience in a dynamic financial and investment environment. They enjoy our positive, supportive, and success-oriented atmosphere.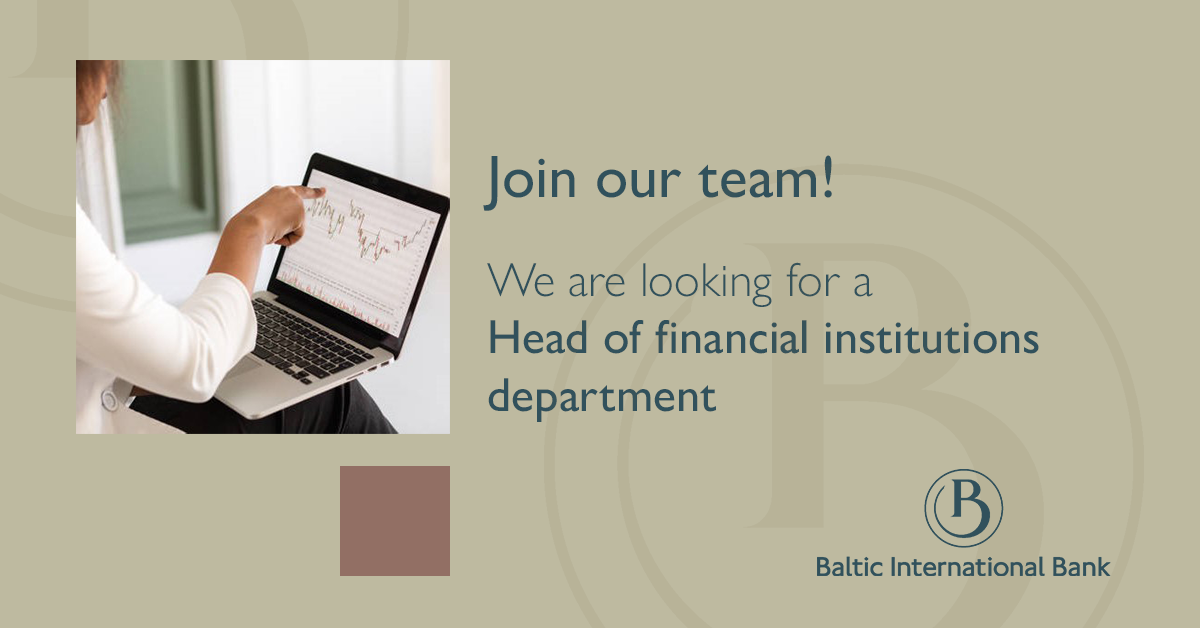 WE ARE LOOKING FOR A HEAD OF FINANCIAL INSTITUTIONS DEPARTMENT

ESSENTIAL JOB FUNCTIONS
Establish, develop and maintain working relationships with other banks and financial  institutions
Organize an effective Department: arrange jobs in the Department so that the employees perform their work in the most effective way and achieve the goals and objectives pursued
Organize the provision of payment services offered to Bank's clients and customer support
Ensure development of Bank's products and processes 
POSITION REQUIREMENTS
Qualifications
Higher education qualifications (Bachelor's degree or Master's degree – preferably with a major  in finance or economics)
Professional experience 
At least 3 (three) years of prior experience in a similar position 
Experience in communicating with partner banks and other financial institutions
 Specific competencies    
Understanding of the way in which payment services are organized   
Understanding of types and features of bank accounts and knowledge of accounting practices
Knowledge of SWIFT standards (formats) and ability to read and understand SWIFT messages
Knowledge of languages     
Good command of Latvian, Russian and English   
Skills       
Accuracy, analytical skills and problem-solving skills (ability to resolve situations independently)  
Good communication skills   
Positive attitude at work and towards people    
WHAT WE OFFER
Motivational system of remuneration
Monthly salary ranging from EUR 3 500 to EUR 4 000 (gross or pre-tax salary)
Opportunity to improve your knowledge and professional skills
Responsive colleagues and dynamic, interesting and responsible work
Employee motivation program
Flexible forms of working and a modern workplace environment in the Old Riga
SPECIFIC REQUIREMENTS
The candidates must satisfy the requirements lad down in Article 34.5 of the Credit Institutions Act [Kredītiestāžu likums] of the Republic of Latvia.
HOW TO APPLY 
Please email your CV and motivation letter marked 'Head of Financial Institutions Department' to personals@bib.eu.
DATA PROTECTION
By applying for the vacancy, sending your CV and taking part in this selection procedure, you give your explicit consent for processing of your personal data. You may revoke the consent at any time.
Please visit https://bib.eu/uploads/2021/03/KL_285-PDA-pazinojums_kandidati_no-05-03-2021_LV.pdf to read Bank's document
Baltic International Bank SE: Personal Data Processing Notice to Data Subjects For the Purposes of Processing Personal Data of the Candidates and Trainees.
We will contact the candidates having succeeded in the first round and selected for further consideration (if you do not receive the job interview invitation within two weeks after the closing date of the competition, this means that you have been rejected as the job candidate).
Welcome to Baltic International Bank!